Blog
Udos Choice Super 8 Gold
The new highest strength award winning Microbiotic product available on the Irish market, manufactured with a guarantee of 102 Billion "good" bacteria per capsule.
Super 8 Gold contains 8 medicinal strains of friendly bacteria specifically formulated of rectifying serious flora imbalance or discruption.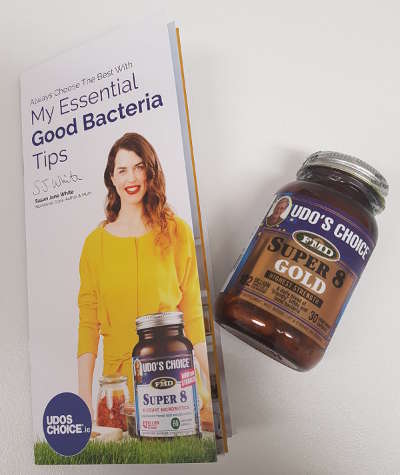 Bifidobacterium breve HA-129 (45%) - colonizes the LI & produces lactic acid & acetic acid that inhibits bacterial growth. Has been shown to repress the growth of ulcer-inducing bacteria.
Bifidobacterium longum HA-135 (20%) - improves lactose digestion, constipation & helps breakdown bile salts.
Bifidobacterium bifidium HA-132 (15%) - Helps synthesis B Vitamins & helps the body in the completion of its digestive process, specifically the absorption of calcium, iron & magnesium. Also improves inflammatory responses in seniors.
Lactobacillus casei HA-108 (98%) - Helps breakdown carbohydrates, it has also been shown to help treat diarrhoe associated with viruses & antibiotics.
Lactobacillus rhamnosus HA-111 (4%) - Helps gut cells to produce mucin, a mucous coating that prevents toxins from reaching the blood.
Lactobacillus acidophillus HA-122 (3%) - Produces lactic acid to inhibit yeast growth.
Lactobacillus plantarum HA-119 (3%) - It secretes a natural antibioti lactolin which has beneficial an-microbial activities.
Lactobacillus salilvarius HA-118 (2%) - Found in SI & Mouth & has been shown to improve bleeding gums, tooth decays, oral thrush & canker sores. Also helps protein digestions.
Ideal for post-antibiotic (Take 2 hours after antibiotic)., older adults & those (as below) in need of chronic support:
Chronic diarrhoea, Ulcerative Colitis, Crohns Disease, Diverticulitis, IBD/IBS, Constipation, Lactose Intolerance, Thrush, Small instetinal bacterial overgrowth, Urinary Tract Infection, Poor Digestion, Immune Support.
Recommeded dose:
Therapeutic take 3 per day
Maintenance take 1 per day
Udos Choice Super 8 Gold is on special buy now