Blog
#100DayReset Programme (Environ, Advanced Nutrition Programme, Jane Iredale)
Part II of  Jane Hanna's story from day 30 to 60 - Read on to see how Jane achieved amazing results so far !

This photo below was taken on 10 June 2017 Saturday. On day 43, Jane had already have her 3rd Environ Cool Peel Facials plus Environ LACM Home Peel Kit along with her regular skincare remedies.
Already, you can see her skin is starting to improve. Her skin look brighter and clearer after 40 days on Skin Accumax, Environ skincare and Jane Iredale make up.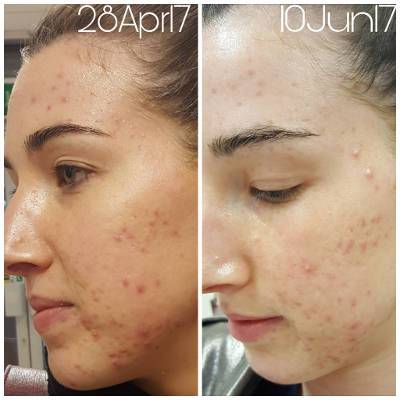 This photo shows the right side of Jane's skin was slightly less angry.
Jane Hanna came in for her first Environ Cool Peel Facial on the 13th May 2017, Friday. Environ Cool Peel Facial is a safe and gentle procedure which removes the excess horny layer of the skin and yet protects the epidermis layer so there is no excessive redness or recovery time. The peeling system is based on usage of Lactic Acid which hydrates and repairs skin cells as well as encouraging skin cell exfoliation revealing fresh and youthful skin. This is especially effective in treating rosacea, acne, scarring, rough texture and photo-damage skin.
Usually, I would recommend client's to have a series of Environ Cool Peel Facial for the best results. In Jane' case, I recommended her to have a course of 6 Environ Cool Peel Facials. So, Jane decided to go ahead with the course of 6 Environ Cool Peel Facials, one per week starting Friday 13th May 2017 every Friday thereafter. Each Environ Cool Peel Facial generally lasts about 60 minutes to 90 minutes and there's no down time. After each peel, your skin might feel slightly warm and tight, however most of my clients experience no discomfort.
We are going to let Jane explain her 100 Day Journey continue from Day 30 - 28th May 2017 
I so look forward to have my first Environ Cool Peel Facial with Emi. She makes me feel very welcome and comfortable. Before she gave me Environ Cool Peel Facial, she explained the whole process of the facial and said that I might experience a warm, tingling sensation when she applied LACM 2 (Lactic Acid) onto my skin, however, she said that most clients experience no discomfort.
I have to say the facial was amazing! After plenty of cleansing, Emi applied a layer of LACM 2 masque on my skin. I did feel my skin a little warm but not tingly! After couple of minutes, she cleansed and massaged my face with neutralising cleanser. Then, a thick cold creamy mask was applied all over my face including my eye and mouth and the mask was attached to the micro-current machine for 15 minutes. Finally, the mask came off in one piece. I found the whole experience was very relaxing and I think I nodded off for couple of minutes during facial.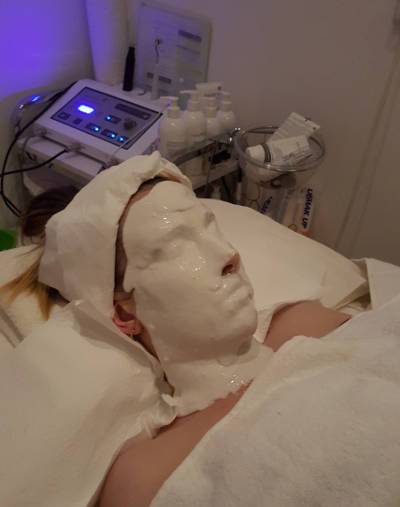 After the facial, Emi recommended that I start the following skincare remedies along with my regular skincare regime....

* Environ LACM Home Peel Kit - I applied a layer of LACM 1 with the brush provided in the Kit and leave on for 10 to 20 minutes, then I washed with Environ Sebuwash and applied Environ Colustrum Gel and Environ Face & Body Oil after every night.
* Environ RAD SPF 15 - I applied every morning after I cleansed and moisturised my face and neck area. Then, I finished with Jane Iredale Smooth Affair Facial Primer & Brightener and Jane Iredale Pure Pressed Base Golden Glow. I have to say I am very impressed with Jane Iredale make up range. It's so good and it stays on my skin all day.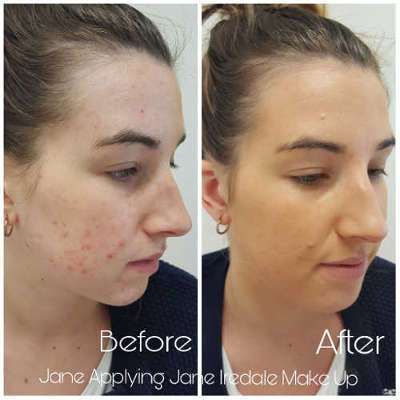 So far, I am happy with Emi's advice and the treatment I received. I found Emi really spent time with me getting to know me and she really wanted the best result for me and my skin. I am really hoping my skin will be clearer soon. 
Jane Hanna
Thanks for reading!  We will be following up with the next update on Jane's skin journey soon.
Emi x