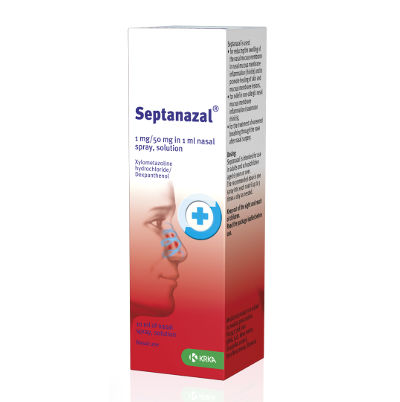 Septanazal with dexpanthenol 10ml
Septanazal nasal spray with dexpanthenol has a double effect on nasal congestion. Septanazal unblocks the nose and also heals and protects damaged nasal tissue. So if your suffering from a stuffy nose this is the product for you.

Please read the information leaflet.
Description
+ Acts within 5 to 10 minutes

+ Long-lasting easy breathing

+ Contains no preservatives
Septanazal is indicated: -
for reducing the swelling of the nasal mucosa in rhinitis and as supportive treatment for healing mucous membrane lesions, - for relief in vasomotor rhinitis (rhinitis vasomotorica), - for the treatment of nasal respiratory obstruction after nasal surgery. Septanazal is indicated for adults and children over 6 years of age.
The usual dose of Septanazal is one spray into each nostril up to 3 times a day as needed. The dosage depends on individual sensitivity and clinical efficacy. Duration of treatment is limited to 7 days unless otherwise instructed by the doctor. Repeated use is possible only after a break of several days.
The administration of the product in children under 12 years of age should be supervised by an adult. If after 3 days of treatment, no improvement or worsening of the symptoms is observed, the clinical situation should be re-evaluated. Children over 6 years of age The usual dose of Septanazal in children aged 6 years or over is one spray into each nostril up to 3 times a day. Regarding the duration of treatment in children a doctor should always be consulted.
Method of administration:
Nasal use. First the protective cap should be removed from the sprayer. Before the first use or if the spray has not been used for a long period of time, the spray head should be pressed 5 times until a fine spray appears.
The sprayer tip should be inserted as upright as possible into one nostril and the spray head should be pressed once. Patient should gently inhale through the nose while spraying. If necessary, the procedure should be repeated for the other nostril
After each use, the sprayer tip should be wiped with a paper tissue and the cap placed back on the sprayer.
Shelf life 2 years After first opening of the container, the product should be used within 3 months.
List of excipients: Potassium dihydrogen phosphate Disodium phosphate dodecahydrate Water for injection
Click here for Septanazal 1 mg/ 50 mg in 1 ml nasal spray solution Information Leaflet.1 mg/ 50 mg in 1 ml nasal spray solution Information Leaflet.
---
We have been authorized by the Pharmaceutical Society Ireland (PSI) to supply Pharmacy only non-prescription medicines and 'General Sale Medicines' within the European Union.
For Reference of Latest List of General Sales Medicines refer to https://www.hpra.ie/homepage/medicines/medicines-information/find-a-medicine
Contact details for the PSI: i.e. Telephone: 01 218 4000, Address: PSI House, Fenian Street, Dublin 2, Email Address:
A record of each transaction will be retained for a period of 2 years.

Reviews
There are yet no reviews for this product.