Ear Piercing Procedure
Ear Piercing at Palmerstown Pharmacy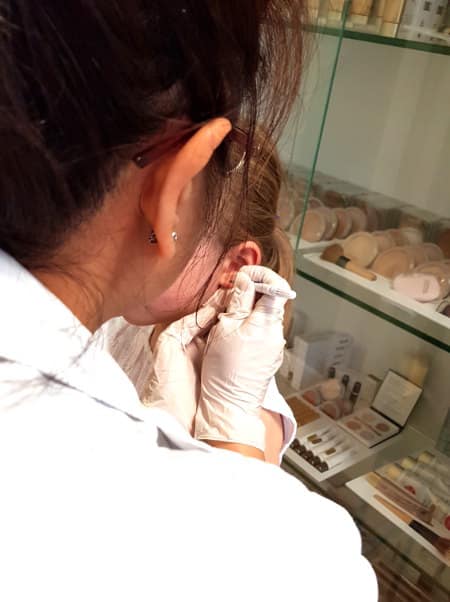 Book Now: Phone: 016208500
We are certified ear piercing specialists and have been offering ear piercing service since 2012. 

Our Studex jewellery for piercing is hypoallergenic and has been designed for the most sensitive skin and is compliance with the EU Nickel directive. Each piece of jewellery is pre-sterilised and packaged to load the earring or stud with no contact, thus guaranteeing cleanliness.

We have a  range of 18ct, 14ct and 9ct Gold earrings as well as 24ct Gold Plated, a surgical grade of Stainless Steel and Titanium with price starting from €24.95.

The ear piercing is fast, gentle and  involves two ear piercing specialists piercing both ears simultaneously, its a great option for young children!

We are sometimes asked what the difference is with our ear piercing and Claire's Ear Piercing due to our lower prices. Claire's ear piercing use the same Studex piercing machine and earrings, the reason for the price difference could be a number of factors, but the materials are no different.

 

Browse Available Earring for piercing: (please check with us for current stock availablity)

 
Our Ear Piercing Procedure
1. Our ear piercing specialist will start with the customer consultation form to take you through the processes, suitability for piercing and importantly how to look after your piercing.
 

2. Next, we will ensure that you are comfortable and that the piercing area is cleaned again and the equipment laid out before the Technician washes their hands and puts hygienic gloves on before physically checking the piercing site.

 

3. Once checked, we will discuss where you would like your piercing and take time to mark the area and ensure that you are 100% happy with the location. It is really important that you take the time to really check and make sure that you are totally satisfied with where the dots are as this will be where your beautiful new jewellery will be accurately pierced.

 

4. On approval, we will load the jewellery into the instrument without touching it and perform a quick, comfortable piercing. And that's it! All done!

 

5. We highly recommended you use the After Piercing solution retail at €2 and may apply some after the piercing to take away some of the hot sensation sometimes experienced.
Then all that's left, is for you to admire your beautiful new piercing and then look after it as per the guidelines on your aftercare form.
 Palmerstown Pharmacy Team
---